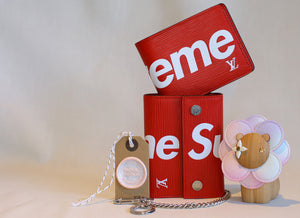 Founded in 2021, Trésor Vintage is your ultimate destination for pre-loved and vintage luxury accessories including handbags, fashion jewellery, small leather goods and more.

We named our brand 'Trésor' meaning 'precious treasure' in French. For people who have an insatiable passion for classic vintage luxury pieces, owning a unique pre-loved piece is something to truly cherish for a lifetime.

At Trésor Vintage, our team strive to provide our visitors and clients with remarkable customer service whether you are purchasing, consigning, or simply browsing our curated collection of handbags and accessories on our website.

Trésor Vintage has an outstanding team of luxury experts to source our exceptional items worldwide. Our team strive to provide our community of preloved/ vintage lovers with a wide range of one-off, vintage, modern and classic pieces to select their dream pieces.

Authentication has the utmost importance in our community. Before each piece putting online for purchase, it has gone through rigorous examination and inspection for condition, quality, and authenticity. Our double authentication procedure ensures all our valuable customers receive what they paid for – genuine and authentic preloved/ vintage luxury pieces.

Join our community to immerse yourself in the world of celebrated global fashion brands including Chanel, Hermès, Louis Vuitton, Christian Dior, Gucci and more.
Sustainability
Purchasing a pre-loved piece not only allows a beautiful product to be used to its full potential, but also reduces the demand for new raw materials. All of our packaging are eco-friendly; we use recycled PVC free paper and 90% biodegradeable materials. 

Rather than letting it gather dust in the back of your closet, we want to celebrate pre-loved items, extend their life and advocate for a more sustainable future.
Double Authentication
Our products are sourced worldwide and they all go through a double authentication process before they go live on our website, so you can rest assured that the luxury purchase you make with us is the real deal.  

The double authentication process goes through quality control where the product was sourced, and once again in the UK. We provide a refund guarantee if the product is proven to be fake by experts.